Many guests ask us what the best seat is aboard the Rocky Mountaineer. Reading online reviews, you'll hear some people tell you the best seat is on the left, while others will tell you it's on the right. I've read some reviews saying you should be in the front GoldLeaf car, and others that say you should be on the last train car. Please remember, many of the people writing these reviews have only travelled aboard the train once and are speaking from their own personal experience. They likely had the time of their lives and are happy to tell you how amazing it was in their seat. I personally believe every one of them.
A trip aboard the Rocky Mountaineer is a life highlight. I have travelled aboard trains all over the world and I have personally travelled 18 times aboard the Rocky Mountaineer, fifteen times in GoldLeaf, three times in SilverLeaf. I'm happy to share my secret to getting the best seat on the train.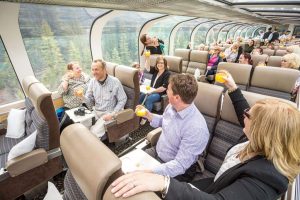 I had been leading tour groups since 1995 and to get an opportunity to actually travel aboard the world-famous Rocky Mountaineer was a dream of mine. Although I had done many trips on VIA Rail prior to this, my first time ever aboard the Rocky Mountaineer was in SilverLeaf in 2011. I sat mid-train, near the front of my car on the left side going east. My grandmother and my wife were on the right side of the train. We all had incredible views and a lovely experience. From then on, I was hooked on telling customers how amazing this "trip of a lifetime" really was.
With passion and enthusiasm, over the next year, I sold so many Rocky Mountaineer based trips that I was offered an opportunity to travel aboard the train three more times. I was one of Canada's top sales agents and I each time I got to travel as a VIP aboard the train. On one trip, I was in the fourth row on the left side going westbound. On another I was near the back in the second last car on the left side going eastbound. Another time I was in the back row on the right side in the middle of the train going westbound. After each trip I was blown away, it just kept getting better and better and I realized there is no such thing as a bad seat on the train. This is the secret to Rocky Mountaineer's success, is make everyone feel special aboard the train, that way you feel like it couldn't have been any better than where you were sitting.
By experiencing many different locations on the train I've realized that every seat is fantastic, every seat is a dream and every seat helps create that trip of a lifetime. The more I ride, the more the experience just keeps getting better and better.
I know there are online reviews out there by that one person who sat "somewhere special,"  but realistically, every seat is something very special. Rocky Mountaineer achieves this by making every client feel special as they travel through a series of postcards.
At Canada Rail Vacations, we strive to listen to our customers and create that perfect trip for you. Although you'll see recommended tours on our website, every part of everything we do is customized to our guests' needs. We designed these tours to reach as many highlights in Canada as possible. Please let us know your wishes and what you are looking for. We offer everything from custom holidays, private tours, Rail Only train tickets, to special event tours to meet your time and budget constraints. We always try to package these tours with one of our favourite trains – Rocky Mountaineer.
If one our guests requests a special seat on the train, please know, every seat is extra special. There is no such thing as the left or right side being "better". The train crosses the rivers many times so the views are equally as good. The front of the train may get to see the scenery earlier than the back but the back will get to savour the views after the front has moved on to another postcard in the making.
Ultimately the best seat on the train is the one you're in. Please just let Rocky Mountaineer assign your seat and you'll be in the best hands. In fact, seat requests are not even possible aboard the Rocky Mountaineer.
If you'd like to discuss the scenery with me personally, please feel free to reach out via email to [email protected] I have been a tour guide since 1995, I have travelled these routes thousands of times by bus and car, 13 times aboard Rocky Mountaineer and many times aboard VIA Rail. I'll happily share my personal experiences and expertise with you.
–
Martin Flanagan
General Manager
Canada Rail Vacations Inc